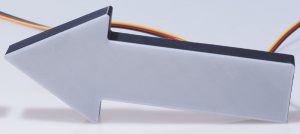 I extended the hardware available for the LED Strip Controller. The arrow may be mounted on the front panel of a photo booth or, as a variant, mounted sunken into the front panel. The arrow is lit by sideways mounted LEDs. This creates a smooth and evenly distributed light effect. The prototype has a length of 140mm from tail to tip, a width of 300 at the tail and 55mm across the arrow head. The depth is determined by the LED strip size and results in 17mm. A sunken mounted arrow protrudes 2mm above the front panel.
To control the LEDs of the arrow, I extended the LED Strip Controller firmware as well as the LED Ring Service application. One or two identical arrows may be lit at the same time.
The updated software may be downloaded from the LED Ring page.