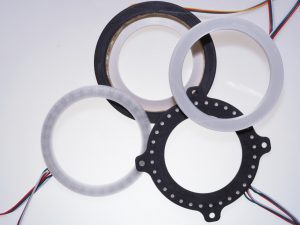 I created a new version of the PhotoBooth LED Ring Service.
Support for dslrBooth was improved. Events may now be defined for each Booth Mode (Print, Print & GIF, GIF, Boomerang, Video).
It is now possible to use the LED Ring Service with a Strip Controller only. The LED Ring Controller was mandatory in prior versions but may now be configured empty. The Auto Config option for the LED Ring Controller may now be disabled.
The changes require adaptions in the configuration files. Existing configurations need to be copied before the update and applied to the new configuration files afterwards.
The new version is available for download in the download section of the PhotoBooth page.