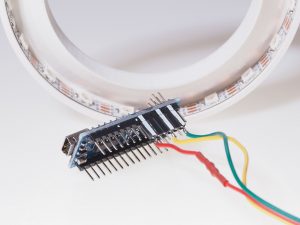 You've seen this LED Ring before. It was connected to my PhotoBooth Controller. Now it is connected through a small controller straight to a PC. I wrote an application that allows integration of the LED Ring into common photoboth applications like Breeze, Darkroom Booth, Photoboof, dslrBooth or SparkBooth.
The LED Ring is controlled and powered through USB.
To control the LED ring from a booth application, a service application is available. It is implemented as a set of .net applications running on Windows. The setup image can be found in the download section below.
Webservice Control
The latest release includes a Windows Service that provides a REST webservice interface. It allows to control the LED ring through parameterized URLs. The application may be used with dslrBooth (version 5.22.1401.1 or later), Breeze or Darkroom Booth. It comes with a sample configuration for both dslrBooth and Breeze. You can test the sevice with a common web browser. CmdLauncher.exe is a helper to call the REST webservice from the command line.
Light Effects
The LED Ring controller commands include a circling rainbow, static colors, blinking colors, circling of a few LEDs and a count-down style light effect. An automatic self timed countdown has been added to provide a nice countdown for Breeze and similar apps. Commands may be tuned through parameters like animation speed, color, segment size or direction of rotation.
Mapping between booth software commands and commands sent to the LED ring is defined in an XML configuration file. The configuration file is scanned for changes. Editing the file in the installation directory will trigger loading the new configuration.
all LEDs off.
static color: all LEDs are shining in the same color.
chaser: the effect features 2 colors. One is the background color and the other wil light up around the ring (and vice versa).
spin: segments in the foreground color "rotate" over a solid background color.
blinking: all LEDs are blinking in a common color over a background color.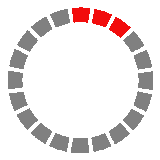 countdown: LEDs are lit according to a progress value (percentage) over a background color. This effect needs continuous updates of the percentage to be animated.
free running countdown: this effect starts with all LEDs on in a single color over a background color. It then switches LED by LED to the background color automatically. Optional switches off all LEDs at the end of the sequence.
swoop: a segment of LEDs runs around the ring over a background color.
rainbow: LEDs are lit in rainbow colors. The rainbow is rotating.
Installation
The setup image below installs a Windows Service. It therefore has to run with administrative rights. The service itself needs a user with administrative rights and an assigned password to run as well. It is advised to create such a user for the service. The setup can do this for you as well as
starting the service during installation. Once installed successfully, the service will start at system startup automatically. The connection to the ring ist tested when finalizing the setup. The service may now be started with an initial light effect. It is configured in the service configuration file. The LED ring is turned off when shutting down Windows and the initial light effect is set when starting Windows.
The service expects a controller with matching firmware to be connected at the specified COM port. LED rings you built yourself may work but don't have to do so by default. Please note that I only support installations where hardware built by me is involved.
If you have further questions, please use the contact form.
The software below is a sevice to my customers. Even if you haven't bought one of my LED rings, you may use the software. Please understand that I won't support you doing so.