I created a series of 12 pictures showing synonyms for the expression "dying". Since these synonyms are very specific to a language and culture, I can't translate them properly. There are similar expressions in teh Englich language, like "kicking the bucket", "pushing up daisies" and similar. This led to the idea, to create a completely localized English version, in both picture and title. I already sketched a number of synonyms. When time allows, I will perform a photo session in my favorite studio.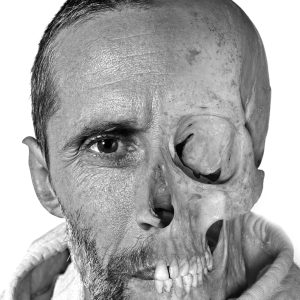 The basic idea to this series originated from a discussion with a leading member of the German Palliative Society. The trigger or the idea was my picture "Carpe Diem II", I created in 2012 for a poster. It is a composition made from two pictures and lots of image processing.
All pictures of this series were taken in black & white, square aspect ratio and out of camera, without any further processing. Square aspect ratio, because this adds weight to the picture. Also, to allow easy composition in a calendar. Therefore 12 pictures in total. Black & white, because I love it and it fits the topic. Out of camera, because I can do it. Because I i like the challenge to plan a picture in detail and take it in one go, without the need for composition or editing.
Pictures for the German version were taken in Rocksdorf 18 in November 2022. Thanks to all who contributed to the success of this project.
For now, I will show a single picture only. One, that didn't make it into the series. It happened while setting up the light. Until now, the pictures were shown once on October 7th 2023 during the "long night of the museums" at the Funeral Museum in Vienna.
I will show all pictures (and the English version too) after a longer exhibition in 2024.
The Wiener Zentralfriedhof (central cemetery of Vienna) will celebrate its 150th anniversary in 2024. I will show the pictures at the Funeral Museum there for a couple of weeks. This event will also be the premiere for the English version.