I had the chance to dive the Scubapro G2HUD already 6 months before market launch during the approval test. My first thought was "oh no, who needs another head-up display?". Then I did the first dives with the G2HUD mounted to my mask. The display is bright and crisp clear. Even with impaired sight of about 2 diopters, the information can be read without problem. the only thing that let me down was the fact that the G2HUD was positioned right in my center of view. I always tried to look around it. That was tiresome and reduced the fun to dive the G2HUD close to zero.
That's why I sat down and designed an adapter that allows to position the G2HUD in a more pleasing way. It is now positioned like a rear-view mirror in the upper right hand corner of my viewing area. Well in sight, but not obstucting. The shift to the right hand corner and a slight tilt changed our relationship dramatically.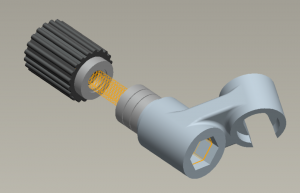 Even in close to zero visibility the display of the G2HUD is clearly visible. Even in dense muck, when you can't read your wrist computer anymore! The G2HUD is the ideal addition for all who need their hands free for work or need to have a constant eye on the compass or the main diving parameters. It's great value to back up a wrist or console computer.
To give others the chance to enjoy their G2HUD, I published the adapter on Shapeways for printing.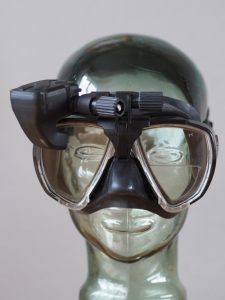 All plastic parts may be printed together in a cage to allow fast and secure production. The cage keeps all (even small) parts together and complete. This allows cheaper production cycles than when printing separated parts. When breaking open the cage, you get access to the angle bar, 5 washers and a groved knob.
In addition to these parts you need an M6×50 screw and matching nut made of stainless steel. An optional spring with an outer diameter of 7mm may be used to keep the washers in place when mounting the G2HUD.
The adapter is mounted between the original mask attachment and the G2HUD. The connection is easily reversible so it doesn't impact warranty at all.
The tilted position requires the compass to compensate for the tilt. A declination of 35° in the compass is used to counter-measure the tilt.