Who's that guy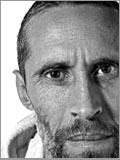 As you might have found out visiting my page, I'm interested in a lot of different things. My mother tongue is German (sort of). Any offences therefore are most probably caused by my bad command of the English language and are not intentional. Nevertheless I decided to write in English. It took me quite some time to set up these pages. Following several requests I did a German version. Don't say, I didn't warn you ;-)
What I love to do
Besides of working for a living (which is quite fun most of the time but takes a lot of time though) my main hobbies are:
Photography

I bought my first camera when I was fourteen. Since then I spent much time to learn to see my environment in a different way. Due to limited resources my main focus tended to portrait and macro photography. I simply couldn't afford a proper wide-angle lens.
In 2002 I decided to go digital. I sold all my SLR equipment and bought myself an Olympus E-20 (Bridge-)DSLR. That time I also started underwater photography. With the emerging Olympus E-System DSLRs in 2004 I got back to a true DSLR system. Following technical progress, I am using mirrorless system cameras today. Although a technical afficcionado, I prefer taking good pictures over talking about dead pixel, noise or image sensor size.
Thanks to a wide range of high quality lenses I am able to take the pictures I imagine (most of the time). Usually, I'm the limitting factor if a picture deosn't turn out as expected.
My main topics are macro, still-life, landscape and underwater photography. You may look at my pictures in the gallery under Photography and Trips.
I try to earn back at least a fraction of my expenses by selling my pictures. There's a section in the gallery that covers what I show(ed) in my exhibitions.
A photographer should never forget how it feels to be a model. Therefore, I act as model myself every now and then. Recently, modelling under water was to me even more fun than taking pictures myself.
Travelling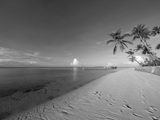 I'm living at N48º 12.9′ E16º 19.9′ (WGS84) most of the time. Studying human anthropology at the university (amongst other topics) was just a beginning. As soon as I could afford to travel, I did as much as possible. My trips led me several times to Scotland, Jordan, Egypt, the Sudan, Philippines, Indonesia, Mexico, Ecuador, Iceland, Bolivia, Chile, Greenland, Antarctica and also lots of European countries. The way I use to travel I meet lots of interesting, sometimes strange people. Most of the others find me strange too, so it levels out :-)
Scuba Diving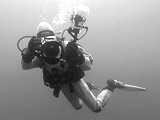 The greatest fun I ever had in wet rubber. It all started with a solid hydrophobia. To get rid of it, finally, I registered at a diving school and got my PADI Open Water Diver license a month later. Since that time I enjoy scuba diving a lot. Some of my projects therefore cover this topic. In the meantime I did a few dives (and got my Advanced Open Water license), mainly in alpine lakes in Austria and in the Mediterranean Sea. A friend gave me his old Nikonos III camera and so I started to take pictures during my holidays again after nearly 20 years of absolutely lightweight travel (you can't travel lightweight when diving with your own equipment anyway).
The development in digital photography convinced me to buy an Olympus E-20 digital camera and an underwater housing. Some time later I tried to house an Olympus E-1. The project failed and I used an Olympus E-330 in a UK-GERMANY housing for a while. In 2008 I launched my Olympus E-3 underwater housing project. It was finished in November 2008 and the result is absolutely great. After a small change of the back lid, the housing is home to an Olympus E-5. I never though that the housing would stand all the challenges I ran into during the last 13 years. You'll find pictures of my dive trips in the gallery.
Most of my current diving projects target remote areas. They may be around the corner though.
Improv Theater
From my early days at school I learned that it sometimes is more important to give the impression to know something or be able to do it, rather than knowing in advance. Learning things as they develope, preferrably faster than others realize that you didn't know it, is a big advantage. Finally, I made even a living of being an expert in jobs I never really learned beforehand.
Years later I learned that this attitude is an art by itself and called improvisation theater. Training to cope with the unpredictable. Fail, fail again but fail better and have fun failing. Learning new things and feeding my curiosity. It helps me to value the here and now, to live the moment – both in real life and sometimes on stage.
Motorbiking
Getting driving lessons as a present may change your life. At least it added lots of fun to mine. I got my driving licence at the age of 32 which isn't exactly the local average. Fighting the motor bike from the first day on, it turned out to be my favourite later on. In my first years driving, I did about 10000km by cars but over 150000km riding motor bikes. Says it all? I started off with a friend's Kawasaki Z-400. He asked me to move it a bit. He got it back about 10000km later ( I rode it to Scotland for a four weeks holiday). After this first experience I bought myself a Kawasaki Z-500. It wasn't the latest model either (1982). After two years I had to scrap it because the brakes didn't work well and starting the engine turned out to be worse than a wodoo ritual. My current bike is a Kawasaki ER-5 (Twister). It's great value compared to the costs and real fun to ride. It passed 50000km in 2003 during a trip to Switzerland. To compensate for my well known bad style in dressing I wear a white leather bow tie to my black leather garment on special occasions. In Summer 2016 I finally gave away my motorbike. I couldn't find the time to ride as often as I should to maintain my skills. I've survived a lot of great moments I'll always remember. What can I ask for more?
Rock climbing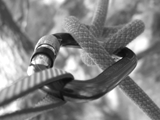 I think, I started rock climbing about the time I learned to walk. Most of the time without any equipment but a sturdy hemp rope it was pretty different to the way I practise climbing today. My favourite areas are the Hohe Wand and the Höllental (both places within 100km of Vienna).
Rock climbing to me is like vertical dancing. It's the best way to feel a mountain from bottom to top.
My Gadgets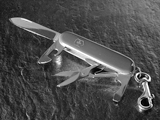 I feel naked without my tools. Especially without a knife. There's a 1001 good causes (or at least excuses) for me to carry a selection of tools.
The oldest one of my tools is my swiss army knife. Thanks to the good quality and service, mine is still in brilliant condition after over 40 years of use and abuse. The best can opener and bottle opener I ever saw. I use it for mounting western plugs to network cables, opening CD-jewel cases when changing the rear leaflets and wherever I'm in need of small scissors.
Next item I wouldn't dare to leave without, is my Leatherman Wave. After fine tuning the joints, I am able to open the pliers single handed. Did you know that about 5% of every packet of pistachios are reserved for those carrying a Leatherman tool? It's also great value if you want to switch the air condition on or off in an Egyptian hotel.
Another knife I use quite frequently is my Spyderco Endura ClippIt. It is built to stand humidity. You may find it clipped to my sauna towel or a wet suit as well. Did you ever eat a sauna-cooked apple in the whirlpool? Maybe I'll have to add a section on cooking later on.
To bring light into my life there's my LED torch. Together with a head strap it's standard inventory of my backpack. If it's going to get really dark I use my Petzl headlamp. A signal whistle, a few strings of rope and some snap hooks (once a mountaineer, always one) round up my standard equipment.
I usually carry a towel as well. I already did it (out of well known reasons) years before I read the "Hitch Hiker's Guide to the Galaxy".
---
"I've never seen a man that well equipped before" said Wayne Bridgman (New Zealand) after seeing the contents of my bag and pockets spread out on a table at Thurso Youth Hostel (Scotland), in summer 1998.