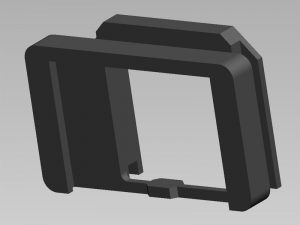 Wearer of prescription glasses are often affected by stray light when using the camera viewfinder. There are a few eyecups available to address this problem. Unfortunately, they are only available for a limited number of camera brands.
I designed an adapter to allow the use of these eyecups and other viewfinder accessories with Olympus OM-D E-M1, E-M1 ii or OM-D E-M1 X and one for OM-D E-M5 ii or E-M10 iii cameras.
The adapter allows to use all accessories compatible to Canon Eg 22mm viewfinders (fitting on e.g. Canon 1D, 5D or 7D).
This adapter was designed for hoodman eyecups but may be used with accessories of other brands as well.
Please mind, that the large eyecup blocks the auto-switch sensor and keeps the camera from going to sleep mode. You have to turn off auto-switching between LCD and viewfinder in order to save battery power.
I provide adapters and other accessories through my websop at Shapeways.
The adapter for OM-D E-M1, E-M1 ii or E-M1 X can be ordered here.
The adapter for OM-D E-M5 ii or OM-D E-M10 iii can be ordered here.