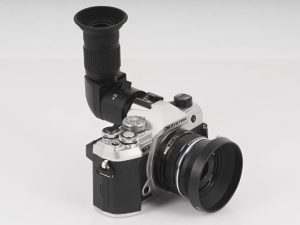 Reinhard Wagner is currently busy preparing his next book about the OM-5. During his research, he found out, that the angle-finder adapter suitable for the OM-D E-M5ii also fits the OM-5. Therefore, all angle finders supported by my adaptors may be also used with the OM-5.
This also applies to the eye-piece adaptors I offer.
Thanks to Reinhard for providing me a picture of the OM-5 with mounted VA-1 angle finder.
More about the adaptors on my Angle Finder Adaptor and Eye-Piece Adaptor pages.