Who says, that you can't mount a threaded filter on top of the Zuiko 7–14 mm f2.0 lens? With a filter diameter of 105 mm it is possible. I tested with the bare holder for vignetting. Up to now, the results are promising.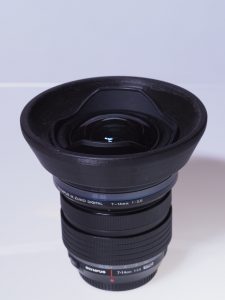 I designed and built a prototype on request. I couldn't test the holder yet. None of the dealers in my vicinity stocks filters of that diameter. Since I wasn't willing to spend more than 200 € for a quick test, I have to be patient. My customer will test the holder and I will report the results.
Polarizers are expected to produce strange effects when pointed at the sky. Nevertheless, they should remove reflections quite good across the whole image.